Introduction
A reliable payment gateway is a crucial aspect of running a WooCommerce business. Forget about having the best products or even selling at the lowest prices. If your payment mode is insecure, trust me, no one will buy from you!
When it comes to online payments, nothing beats PayPal. It's easy to use, fast and is available globally. As a result, it has widely been adopted by small businesses and large corporations. On top of that, PayPal offers top-notch security to ensure your funds are always in safe hands.
With over 300 million active PayPal accounts globally, it's times you thought of capturing the population that prefers using this popular method.
While there are many ways of connecting PayPal to WooCommerce, we'll focus on the simplest.
Ready? Let's get right to work!
Why Should You Use PayPal Payment Gateway for WooCommerce?
You can gain numerous benefits by choosing PayPal as a payment gateway for your WooCommerce store. Let's explore some of them.
Opening a PayPal account is free.

It's safe and secure.

It supports multiple currencies and is available globally.

Credit card security: With PayPal smart buttons, you don't have to keep on adding your credit card details on every website as you can always pay with your autosaved PayPal details.

Provides a flexible online shopping experience since you don't have to carry your wallet everywhere.

Easy integration with WooCommerce.

Shoppers can buy now and pay later hence, increasing your conversions.

With PayPal invoicing, you can generate professional-looking invoices for your business quickly.

It doesn't require lengthy processes to configure with a bank account making it ideal for businesses.
PayPal Features that Make it Suitable for WooCommerce.
1. Sending/Receiving payments
PayPal follows simple procedures, which makes sending and receiving payments easy. As a result, it's the most preferred payment mode by many businesses globally. Besides, you can shop online and send money to family and friends without paying extra charges with PayPal.
As for business owners, fund transfers are quick hence you can conveniently receive funds from your customers. Aside from that, you can create printable invoices, easily refund payments and view your transaction history in various formats.
2. Security
PayPal does not disclose a user's credit card or bank information during Payments. It will only reveal the name and email address, securing your data. Moreover, PayPal's In-Context Express Checkout enables customers to complete their transactions on the same page all through. PayPal also uses high-encryption technology, ensuring that sensitive data is well protected. Finally, they have an active support system that monitors all transactions and immediately detects fraudulent activities.
3. PayPal Credit
With' bill me later', buyers with insufficient funds on their PayPal account can still purchase items on credit and pay later via card or bank account. This makes it convenient for your customers to have a better shopping experience. Customers can also pay in installments with the 'Pay in 4' service. You can do all this without any extra charges. However, this service is only available for US account holders.
4. Transaction fees
PayPal charges a low transaction fee on each payment received. This makes it reasonably affordable to everyone. For sending money to friends and family within the US, no extra cost is included in their payment. A 2.9% or +0.30 fee is charged for merchants per credit or debit card transaction.
How to Integrate PayPal Checkout with WooCommerce
Step 1: Create a business account with PayPal
To open a PayPal account, visit PayPal's website and click on 'Sign up'.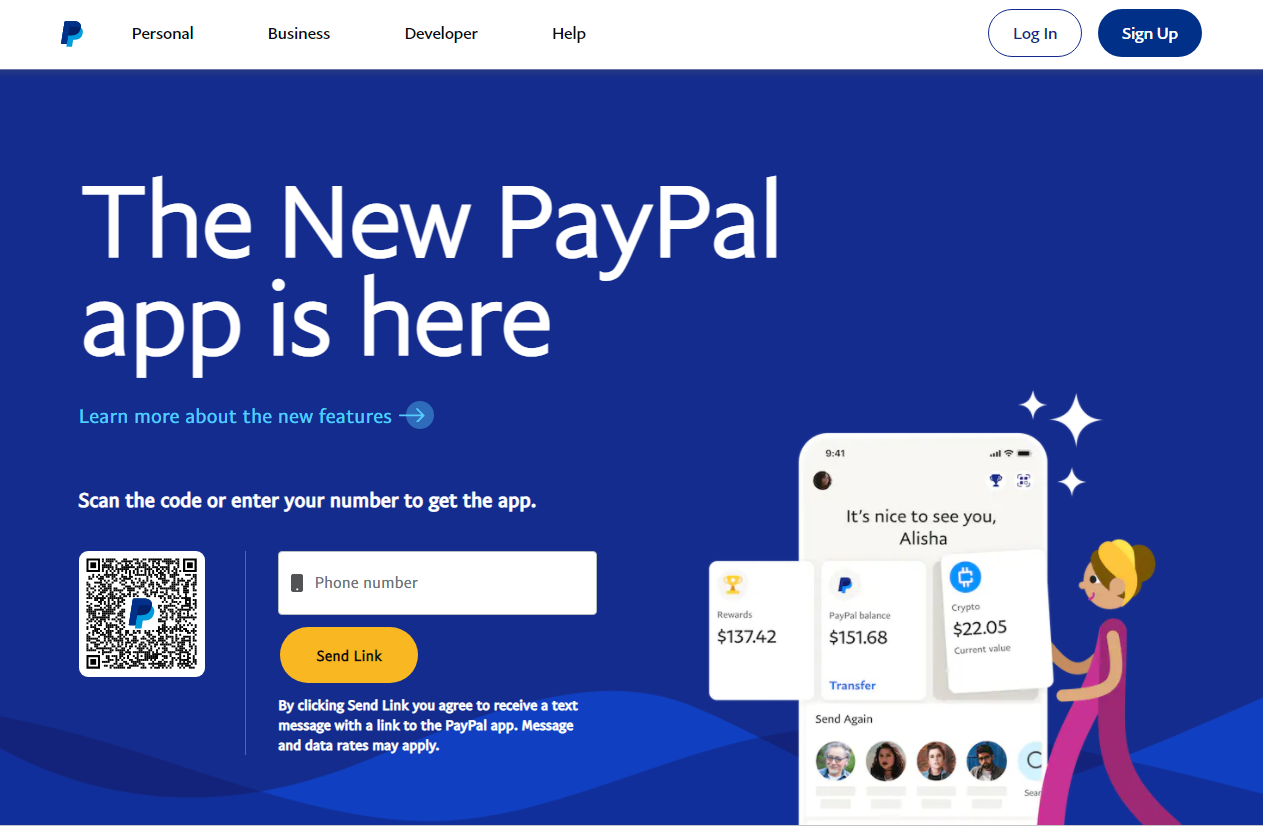 Select 'Business Account' to proceed and click 'Next'.
Enter your email address and click on the 'Continue' button to create the account. Similarly, create a password for your account and click 'Continue'.
On the next screen, enter your business contacts, business details, and business address.
Then click on 'Agree and Create Account' to submit your details.
At this point, we have successfully created our PayPal business account.
Step 2: Set up your PayPal account
You'll need to set up your PayPal account to receive payments from your customers. PayPal will send you a verification email to the email address you used to create your account. Go to your email inbox and open this email. Click on 'Get Started Now' to continue setting up your account.
On the next screen that opens, click on 'Account setup' and link your bank account to PayPal. So, our PayPal account is now ready to receive payments.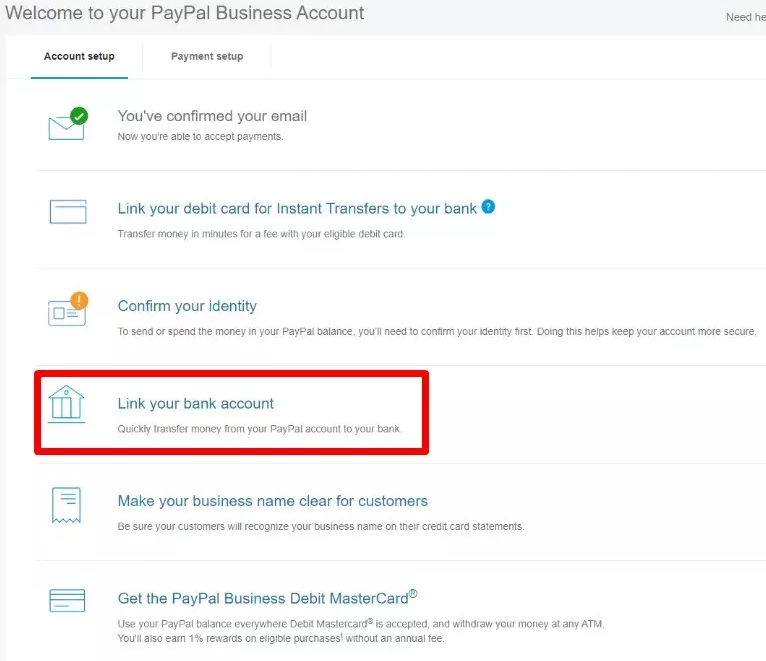 Step 3: Set up your PayPal payment method
On your WordPress dashboard, go to WooCommerce > Settings > Payments. Here, you'll find several payment methods that you can add to your WooCommerce store.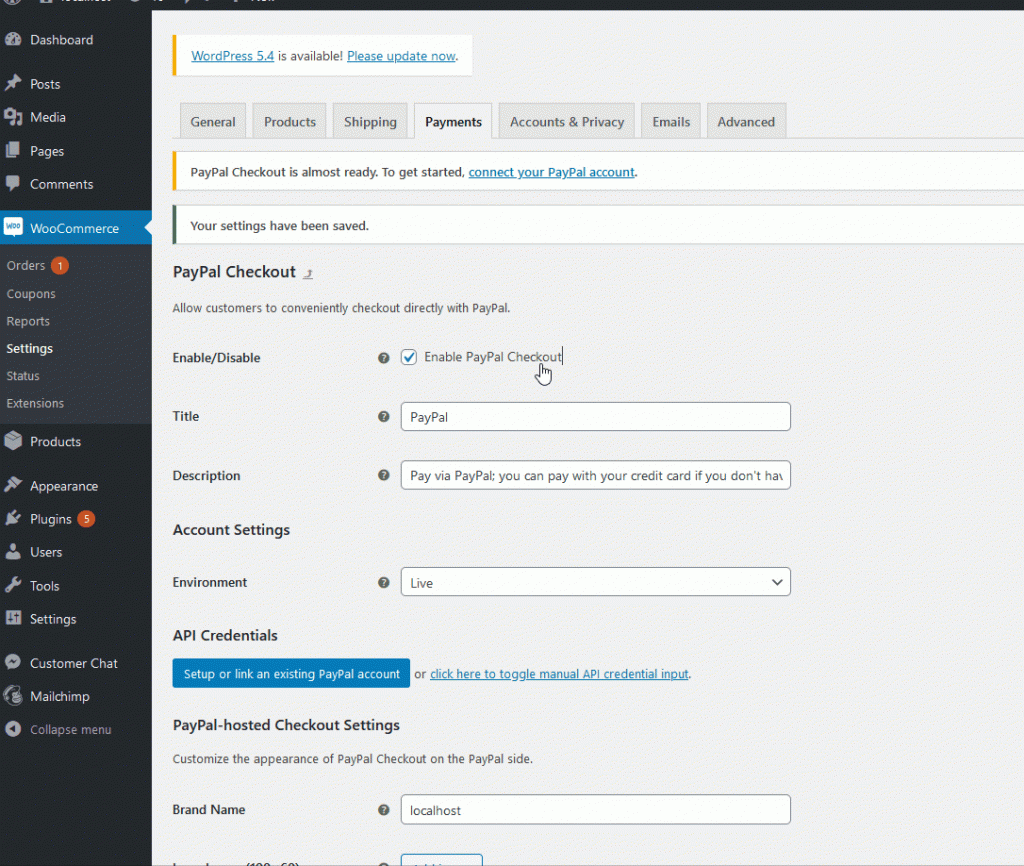 Since we're interested in PayPal, click the 'Set up' tab beside PayPal.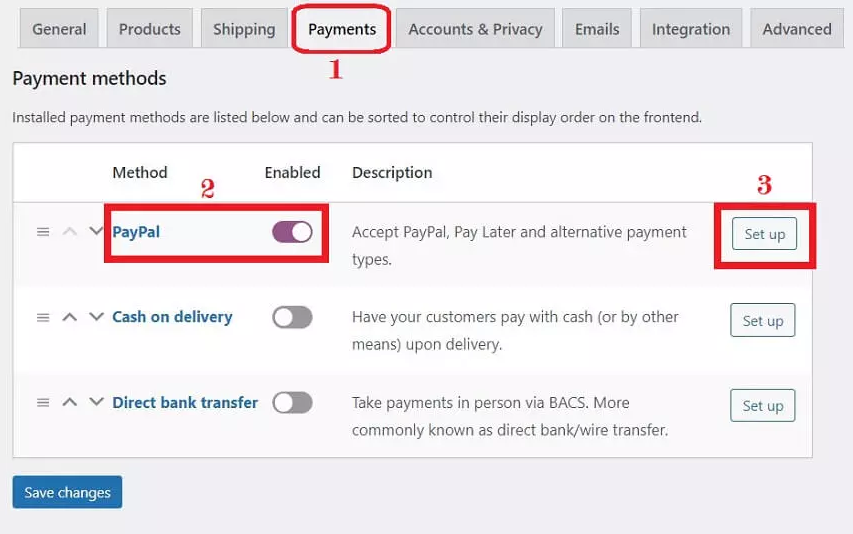 Tick the 'Enable PayPal Standard' on the new screen that appears. Add a short description to your PayPal account and enter your email address. Scroll down and click on 'Save changes'.
Step 4: Connect PayPal to WooCommerce
Click the ' Connect to PayPal ' button to integrate PayPal payments to your WooCommerce website. A pop-up window will appear where you'll need to enter your login credentials. Once complete, your PayPal account will automatically connect to your WooCommerce website, and customers can start making payments via PayPal.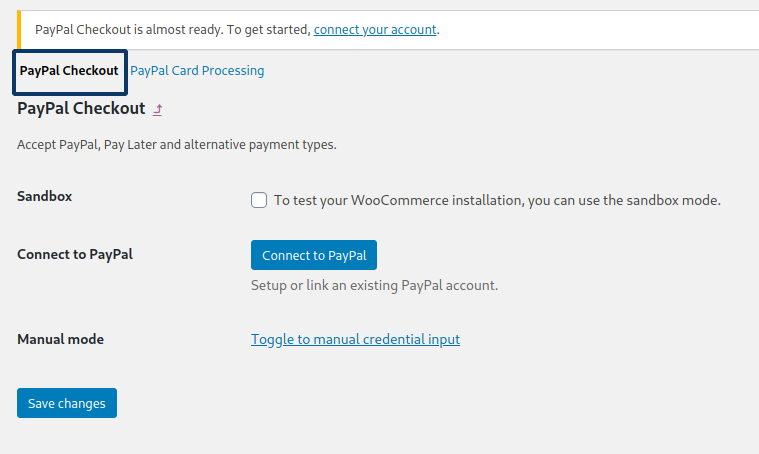 Step 5: Customizing PayPal payments checkout fields
You can also customize PayPal payments on the PayPal checkout page. Some of the settings you can manage include:
Integrating PayPal Checkout API

Enabling PayPal Gateway

Customizing PayPal Checkout settings

Single product page settings

Mini cart settings

Cart page settings
You can edit and modify other sub-categories in this section, such as title, tagline, description, API credentials, and many others. You can customize your checkout settings until it fits your liking.
Step 6: Testing PayPal checkout
To test if your PayPal account is functional, enable Sandbox and configure all the settings. You can then log in to your WooCommerce store, place an order and make your payment via the trial account.
Conclusion
Easy & simple steps to follow, right? Hopefully, by now you should easily connect your online store to this powerful payment gateway for WordPress.
If you want to increase your conversions and enhance your brand visibility, PayPal can help you achieve that. Aside from the global recognition it receives, the payment platform is fast, secure, and reliable. Its high encryption technology will protect your customer's sensitive data. For this reason, you have nothing to worry about.
To integrate PayPal with WooCommerce, you only need to set up your PayPal business account, customize your account's settings, connect it to WooCommerce and finally customize the checkout settings.
We hope this guide helps you iron out any challenges you might have. We tried our best to keep it as simple as possible.
Don't forget to check our blog for more tutorials related to WordPress and WooCommerce. See you in our next post!
What are the PayPal Smart Payment Buttons?
The Checkout Smart Payment Buttons enable business merchants to customize buttons on the checkout page. With the smart buttons, users can select the button layout of their preference (vertical or horizontal), the language that appears on the buttons, and the PayPal checkout button's size, shape, and color.
What is PayPal Payments Standard, and how does it work?
PayPal standard directs customers from your site to PayPal's secure site after checkout to enable them to finish making payments for their order. With PayPal Payments Standard, you can easily accept credit and debit cards to your site or from online marketplaces.
Why are "complete" payments in my WooCommerce shop not reflected in my PayPal account?
Ensure you have added the correct PayPal business account credentials to your WooCommerce account, but rather not your personal details. Also, ensure to undergo the entire validation process with PayPal, as PayPal puts your funds on hold before releasing them to your bank account. Lastly, verify that all orders are real before shipping any item.
Should I set up PayPal in WooCommerce or link it directly to my website?
If you plan to sell multiple products or services, it would be better to set up with WooCommerce. This way, it will be easier for you to manage your store with features such as secure payments, inventory & tax management.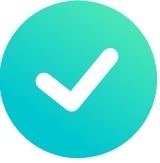 Fixed.net Guides