Standing online is not a small feat. With over a billion websites on the internet and thousands of sites competing for the same audience as you, you have to stay atop your game to become visible in search results. You need a fool-proof SEO strategy to rank and become visible in search engine results.
Of course, your SEO strategy is not complete without keyword research. As a matter of fact, it is the very first step in your SEO-focused content development. You first need to know what your target audience types when looking for your type of business or content.
These phrases that the audience uses when searching are keywords. To come up in search results, you must use these key phrases in your content. In this post, we will look at how to do keyword research for WordPress SEO to help your site rank better.
Keyword Research: What is it?
Keyword research is an integral part of search engine optimization. It is required to develop an extensive list of key phrases that a site should rank for. When it comes to developing such a list, a website owner must first understand their target audience and what they search for when looking for products or services in the site owner's field.
For instance, if you run a Chinese restaurant and optimize your content for "Chinese Restaurant", you will likely rank well for the term. The only issue is that you may not generate the desired traffic to your website.
The implication of this is that you would miss out on a very big part of your potential target customers because they do not necessarily search for Chinese restaurants when looking for your service. This is where keyword research comes in. This research gives you a clear insight into the type of words and phrases that your target audience uses when looking for your product or service.
Why is Keyword Research Important for WordPress SEO?
Web owners have different objectives. If your objective is to monetize your content or drive sales for your products, you cannot avoid SEO.
You need to focus on SEO as it is the core driving force to help you achieve your objective. Here are some key statistics to explain why you need key phrases research is critical for WordPress SEO?
• Over 80% of online shoppers perform online research before making decisions on large purchases.
• Over 60,000 searches are performed on Google each second.
• Over 60% of organic clicks are directed to the top three organic search results on search engines.
• More than 85% of consumers use search engines to learn something important or new to grow their knowledge base.
• Over 100 billion searches are performed on Google every month.
Well, the statistics are clear. You cannot boycott SEO if you want to rank higher and better and also generate more traffic to your site. In achieving effective SEO, keyword research is at the core of everything.
With it, you know what your target audience searches for when looking for your products. You can then include these in your content to help you rank higher and increase the chances of your audience clicking on your site link.
How to Do Keyword Research for WordPress SEO
So, how do you perform this almighty keyword research for your WordPress site? You must first understand that it is a herculean task to try to do it manually. The good news is that many tools are available online to help you with the task.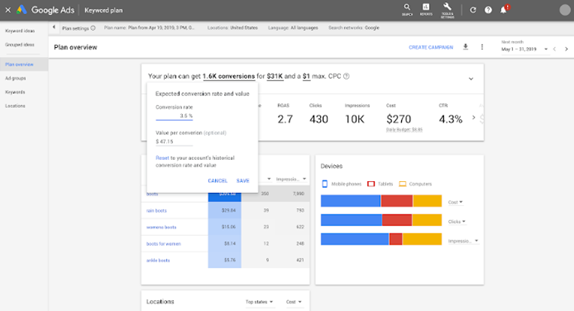 One of the most important tools for this job is Google Keyword Planner. Good use of this tool will give you the most searched keywords relating to your product or service. It uses various filters to deliver results and the best part is that it is FREE. Here are the steps to get started with using Google Keyword Planner.
Step 1: Sign up for Google AdWords
If you do not already have a Google AdWords account, you should create one. It is easy to create. Simply Google "Google AdWords" and click on "sign up" follow the prompts to complete the registration process.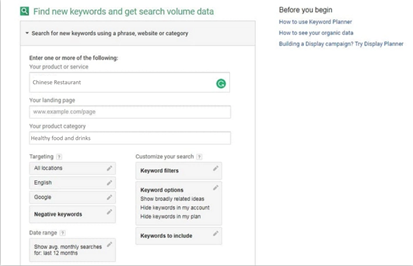 You will be required to provide some details about your products, targeted language, target regions, price range, date range, negative keywords, and more.
Step 2: Click on "Search for new keywords using a phrase, website or category."
This requires that you fill out a form. It is recommended that you use simple keywords to understand the most searched key phrases within your niche. As you progress, you can refine the keywords.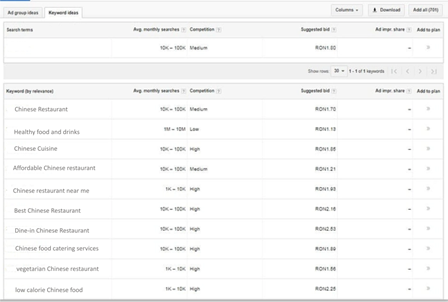 When doing keyword research, it is crucial to think of competition. The great part about using Google Keyword Planner is that it lets you see competition for each keyword.
This lets you know the number of people that have already bided for the keyword in Google AdWords. It is crucial to know the value of each keyword to enable you to estimate how popular they are and their conversion rate.
Step 3: Refine the keyword research
You can adjust your research metrics and filter from the sidebar on the left-hand side of the keyword list. Choose the locations and language you want to target. If you want to extend your scope beyond Google, you also have the chance to do that.
Use the different metrics to filter and refine your keyword research for more precise results. Note that the Negative Keywords part refers to words that are irrelevant or appropriate to your product or service.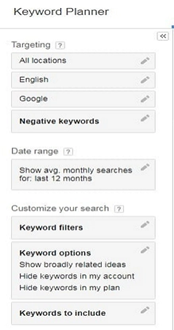 These are keywords that can mislead your customers. Ranking for negative keywords will increase your site's bounce rate and negatively impact your conversion rate.
Apart from Google Keyword Planner, many other platforms allow WordPress site owners to conduct key phrases research. Suffice to mention that Google has some shortcomings, especially in the area of showing only a range of values on the average monthly searches column.
This may not be a big deal if you are not particular about a more precise number. However, if precision is a major factor and you want to see how a keyword can make you rank on search engines, you can explore other tools, such as Moz Keyword Explorer, and KWFinder, among others.
How to Add SEO-Optimized Keywords to your WordPress Website
So, now that you have found the right keywords, how and where do you include them in your site to enhance your SEO? To optimize keywords on your site, they should be scattered throughout your content. Keywords should be included in your headings, taglines, URLs, web pages, categories, blog posts, and other content.
It is recommended that you use one focus keyword multiple times. Multiple times does not mean unlimited times. Try to use keywords reasonably, depending on the length of the content. Google searches every inch of the web to count and localize keywords that users search for.
Therefore, include relevant keywords in your content to improve the chances of your site getting displayed in the SERPs.
Conclusion
You must understand that basic SEO is easy, and you only need to understand and master the techniques. Of course, it involves different steps and can become intricate sometimes.
However, when you start with keyword research and you manage to add the right keywords to your content, you are already on the right path. The next thing is to begin to focus on building trust, credibility, and authority among your target audience.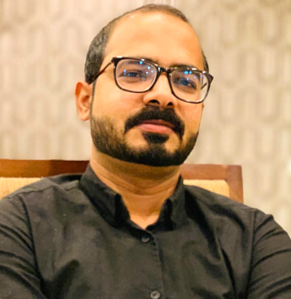 Umair Khan