So, your WordPress website is up and ready. You have installed premium plugins with a feature-rich theme. You already have your content ready to engage your customers. Unfortunately, your target audience may never get to see your content.
With millions of pages competing on the web, you have to do something extra to get your content into the hands of your audience. You need to get the major search engines to index your website. In this post, we will look at how you can make your WordPress site to get indexed by Google.
What is Indexing?
Before going into the details of getting your WordPress site indexed by Google, let us dig a little deeper into what indexing is. So, what is indexing? A search engine, such as Google, is more of a database, a sprawling index that lists websites.
When a search engine indexes a website, it digs further to gather more information about it. To do this, it uses bots, spiders, and crawlers to search the entire site, including the meta tags, XML sitemap, .htaccess, and robot.txt, among others.
Tips to Make your WordPress Website get Indexed by Google
Now that we have a general idea of what indexing is all about, it is time to look at how to get your WordPress website indexed by almighty Google. This part will explore crucial steps to help you ensure your WordPress site or blog is not lost in the ocean of millions of results in the search engine.
Create an XML Sitemap
An XML Sitemap provides a layout of your website pages to search bots. It lets search bots understand how the pages are interconnected and laid out. It also gives directions to search bots to make crawling of your content faster and easier.
Creating an XML Sitemap is very easy on WordPress. All major SEO plugins come with a built-in XML Sitemap generation feature. You will also find some sitemap plugins designed just for this purpose. When you create a sitemap with any of these plugins, you will be able to view information about your website at the sitemap.xml of your domain page.
It is recommended that you create an HTML sitemap for your WordPress site also. Although it may not make any significant impact in getting your site noticed by Google, it can affect the ranking of your search engine results.
Provide your Site Domain Information to Google
The internet is a massive space with powerful search engines roaming around. However, as powerful as search engines are, they are not all-knowing. Website owners have to inform search engines about their newly created WordPress site before getting indexed. So, how do you do this?
• Create a Google account if you do not have one. It can be Gmail, Google+, or YouTube.
• Sign in to the account and navigate to Google Search Console.
• From here, add your site URL and click on the "Add Property" button.
• The Search Console will generally require ownership verification of your site domain. You can sign in to your domain provider platform to verify your ownership. You can also use other methods, which include HTML File Upload, HTML Tags, Google Analytics, and Google Tag Manager. You may want to add Google Tag Manager because it will let you add other Analytics and Tracking codes to your site more efficiently and safely.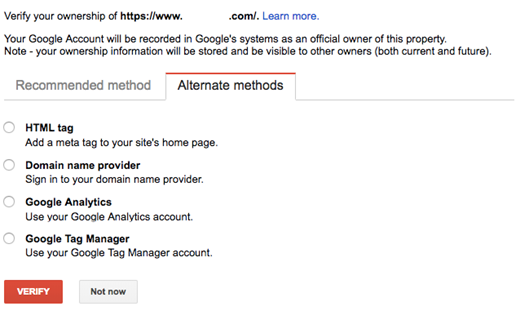 • If you choose the HTML tag, you will be required to access your hosting account. You have to sign in and copy the generated HTML file and then past it in your site directory. You can also copy the HTML Meta tag generated by the console and then navigate to your WordPress admin. From there, go to Appearance and then Editor. Next, select "Header.php" from the available list on the right-hand side and then past the HTML Meta tag after the
Submit your Site's XML Sitemap to Google
Remember the XML sitemap you created in the first tip? It has a purpose. It is to help get your website get indexed by Google. For this to happen, you have to submit it to Google or any other search engine of your choice. To submit your site's XML sitemap to Google, follow the steps below:
• Go to "Search Console" and select your website. From the left side of your screen, click on "Site Configuration" and then "Sitemaps"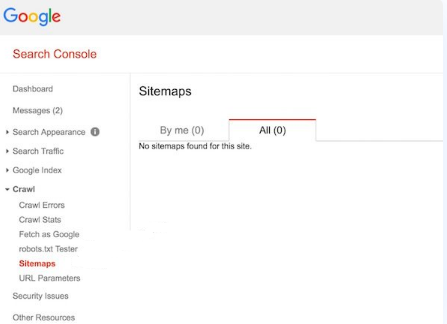 • Click on the "Add/Test Sitemap" button at the upper right-hand side
• Input the link to your sitemap in the field.
Create Backlinks
Also called inbound links, backlinks direct site visitors to your domain. You can use different methods to create backlinks. However, the most effective is when another site or blog mentions your service or products, uses your content as a reference in their posts, or when you provide guest posts on other blogs.
Backlinks are very important because they can help you get indexed and rank high on SERPs without submitting your site's Sitemaps to Google. Volume and quality of backlinks are major factors that make a significant impact in indexing your site and ranking high. When you build contextual backlinks, you will boost the ranking of your site's organic search and get indexed faster.
Different content types are generally linked back to. They include a list of resources, evergreen guides, long-form walkthroughs and tutorials, insights from thought leaders, and opinions. These are legitimate and authentic content that gives credibility to the author who links to your content.
Top Tips for Backlinks
• Look for high-quality links that have keyword-rich and natural anchor text. It is a good idea to get a follow link to get more links and build your site domain authority.
• Stay away from black hat practices. Black hat practices include buying backlinks, building links from personal sites and blog networks, using link exchange networks, and such practices.
• Develop good content that is worth linking back to.
• Work on your site and make it look like a standard website. If your website looks spammy, great content would not help much. Even the most charitable publisher will only give you a no-follow backlink. This will only send some referral visitors to your site and that is all that it is to it.
Conclusion
Indexing is very crucial if you want your target audience to find your WordPress site. It is also important if you want a good ranking on Google and other search engines. Once you launch your site and it goes live, the next thing is to work towards indexing your site regularly on major search engines.
With this, you are assured of organic traffic to your site, which will ultimately lead to conversion and sale.
Why is my WordPress website not appearing on Google?
The privacy settings on your site may not be set to Public. If you select "Do not allow search engines to index my site", your site will not show up in Google search. It is recommended that you change the setting from your Admin dashboard.
How do I turn on Indexing on my WordPress website?
Login to your WordPress Admin dashboard and click on "Settings" and then "Reading". Check to see that you have not selected "Discourage search engines from indexing this site" from the menu.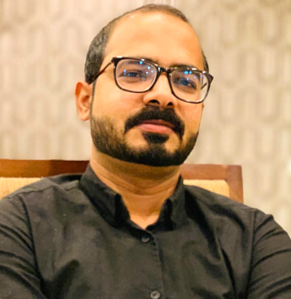 Umair Khan