Introduction
Grouping products in WooCommerce can be a great way to show off related items together and make it easy for your customers to find what they need.
WooCommerce grouped products can be used to sell all sorts of things like clothing, accessories, and home décor.
However, it's essential to consider how you want your grouped products to appear for them to work best for your store. You can show your grouped products in different places depending on the type of product you're selling.
You might want also to feature certain grouped products in specific places around your store or even add images and descriptions to help them stand out.
In this post, we'll show you how to set up WooCommerce grouped products and start selling like a pro!
Types of Products in WooCommerce
WooCommerce supports several products that should be considered before choosing the best product type for your online store. Generally, there are five different types of products:
The simple product is the simplest product type available to use in WooCommerce. You will have a simple quantity input field and a sales price with a single product. In addition, there is no way to add variations to your products with this type of product.
External/Affiliate Product
This type of product is used when you want to allow another retailer to sell a particular item for their own price and then ship the product directly from the third-party site. Since WooCommerce does not have a built-in affiliate system, this type of product is the only way to allow affiliates to sell items directly on your site without entering each order manually. Are you interested in creating an affiliate program in WooCommerce? Check out this guide.
The downloadable product type enables you to sell file-based products. The most common use of this type of product is selling software or digital downloads. Variations of this type include virtual and downloadable products.
The variable product is the most complicated type of product available to use in WooCommerce. It enables you to create multiple variations within a single variable product (for example, different-sized t-shirts). With this option, you can add attributes to each variation (like color or size) and then assign stock availability for each attribute. The user can then select a combination of attributes that they desire.
The grouped product type creates an easy way to have a group of simple products tied together. For example, you could create a product with different sizes and colors of one type of item (like t-shirts). You can add variations in the grouped product, such as images, stock availability, and cost per option.
Why Add Grouped Products in WooCommerce
Grouping products in WooCommerce is a great way to let your store sell multiple products as one. This section will cover the benefits of adding grouped products in WooCommerce.
1. Grouping products is a great way to move old stock
If you have items that you want to keep in stock but no longer sell as individual products, WooCommerce grouped product is a great way to sell them as a bundle. By moving old stock into a grouped product, you can keep it in stock and sell it simultaneously!
2. Grouping products increase the average order value
By grouping many related products, you can increase their perceived value by consumers. They'll see your grouped product as a collection of related items rather than just a single product. This increases the chance that they'll want to buy it, increasing your average order value.
3. Grouping products can lead to stronger inter-linking
By adding related products to a grouped product, you can boost your SEO by increasing the number of links to other products on your store. This is a great way to increase click-throughs from search engines by letting them display more of your site in their results pages.
4. Grouping products allows for better advertisement
WooCommerce grouping products allows you to advertise related products as a bundle. This is a great way to upsell and cross-sell products in your store. By showcasing related products to customers visiting one product, they'll be more likely to buy multiple products!
How to add grouped products in WooCommerce
Many businesses produce multiple similar products, but not quite the same. For example, you may sell many different widgets grouped into three general categories: small, medium, and large. The best way to manage this type of situation in WooCommerce is by using grouped products, which allow you to add multiple simple products together and sell them as a group. Let's explore the process of adding grouped products in WooCommerce in just a few simple steps.
Step 1: Create a parent product
To start with, go to WooCommerce > Products > Add New. Here, you need to add a title for your grouped products in the 'Product name' field. Next, scroll down to the 'Product data' section and select 'Grouped product' from the drop-down menu.

Upon choosing the grouped products option, you'll notice that some fields such as price will disappear. This is because group products are simply a collection of child products. Click 'Publish' to save these changes.
Step 2: Create child products
In this section, we'll add simple products as child products. Head to your WordPress dashboard and go to Products > Add New. A new page will open where you'll enter your product's name, description, price, and product's image.
You can also specify the product type you want to add from the available list in the 'Product data' panel.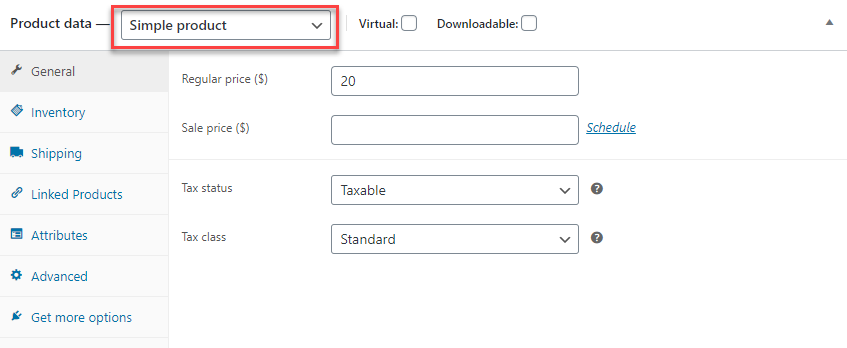 Furthermore, you can also add additional information in the product data section, such as prices, inventory, and shipping details. Hit the 'Publish' once you're done adding all details.
Note you'll have to create an individual product page for every product you want to add. For a quicker process, you can duplicate the current simple product page by clicking the 'Copy to a new draft' button.
Step 3: Link products
At this point, you need to link your individual simple products to the group product you created. Head to your WordPress dashboard and go to Products > All Products. You'll see all the available products in your store. Locate the group product you created earlier and click on 'Edit'.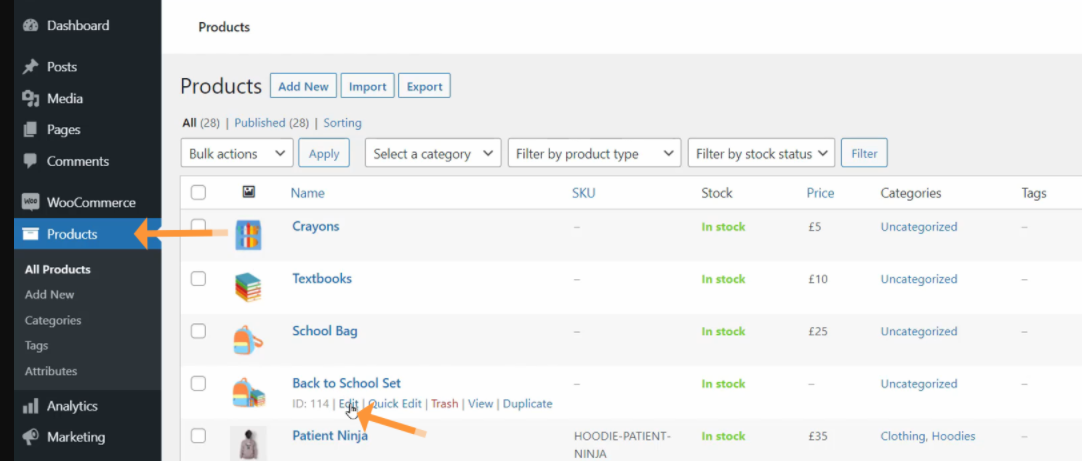 This will take you to that products' page. Now, scroll down to the 'Linked Products' section. In the 'Group products' search box, type the names of simple products you want to link.
As you type, name suggestions will appear, making it easier for you to select the names of your preferred products. Once you've added all products, click 'Update' to save your changes.
Your products will now be visible on your store page, where customers can now add products from a range.
Step 4: Hide simple products from individual searches
Hiding child products from catalog searches prevents these products from showing up in individual searches but instead appears only in group product searches. On the top right corner of your screen, head over to the 'Publish' box and set catalog visibility to 'Hidden'. Click 'Ok' to save your changes.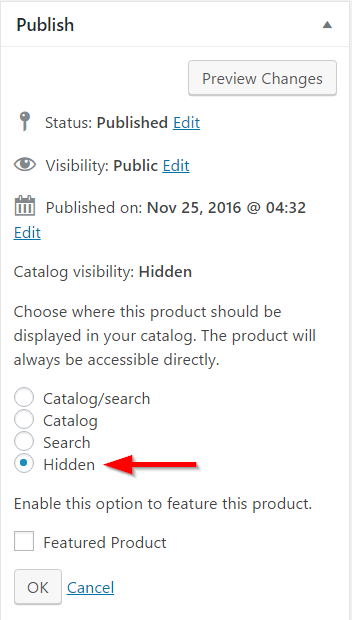 In Conclusion
Adding grouped products in WooCommerce lets you offer variations of a single product. Grouped products typically have a parent product, and every child of the grouped product inherits its attributes.
In WooCommerce, there are several types of products: simple (no parent-child relationship), grouped (has a parent product with variations), virtual (no shipping cost), affiliate/external (no ingoing data from the product), and downloadable (requires fulfillment).
Grouped products help you showcase related products better. With grouped products, you can also increase the average order value for your store, move old stock and improve inter-linking across your product pages.
To add grouped products, create a parent product, add child products, and lastly, add variations of your choice. The only difference is that you'll have to select the variation attributes for the parent and child products in a 'Grouped Product' instead of creating them individually.
And that's all! If you have any questions, feel free to leave a comment below.
Is it possible to add variable products to a grouped product?
Shop owners can create grouped products by adding multiple simple products into a group. However, since each product is its own variable product, the only way to add a variable product as a child to a grouped product is by creating a nested relationship. This requires the shopper to have access to the child variable products and the grouped product, so it isn't ideal. That is why we advise against creating this type of relationship.
A 'bundle offer' is when a visitor can purchase an entire product family or collection instead of buying each item individually. For example, a visitor can buy the Shamrock Shank Set instead of buying each piece separately.
Can I sell variable and grouped products in the same shop?
You can do that by creating a custom taxonomy with 'is_grouped' and 'is_variable' parameters.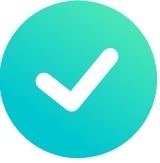 Fixed.net Guides