Search Engine Optimization is a must if you want your WordPress website to show up when your target audience searches for the business area where you operate. When it comes to doing SEO, it is crucial to stay abreast of Google's ranking signals and adhere to best practices.
In 2021, Google rolled out its new Page Experience Update, which focuses majorly on User Experience, especially for mobile devices.
Every web owner should understand the implication of this search algorithm update and how to leverage it to help their websites rank higher. This post looks at what an update is and how you can optimize your WordPress website for it. Let us get started!
Google Page Experience Update: What it is
When visitors visit your site, the experience they get while navigating through is referred to as page experience. This experience covers different factors, including the loading speed of your page, ease of navigation, security of your site, and more.
Google Page Experience refers to the overall experience that users get while interacting with your site. Google has identified five core signals that it looks out for when ranking your site based on user experience.
Core Web Vitals: This refers to a set of three new performance metrics focusing on performance to user experience. These metrics are Largest Content paint, Cumulative Layout Shift, and First Input Delay.
Mobile-Friendliness: This checks the mobile-friendly design of your WordPress site to see if there is an issue with it. Any issue is flagged by Google Search Console or Google Mobile-Friendly Test tool.
HTTPS Usage: This checks to see if your website uses HTTPS and has an SSL certificate.
Safe Browsing: This evaluates your site to see if it has any harmful downloads, malware issues, deceptive content, and other issues as identified by Google Search Console.
No Intrusive Interstitials on Mobile: This checks to see if your site displays any intrusive interstitials/pop-ups to mobile users while they click through from Google search.
The new update means that Google will favor websites that visitors prefer using most and rank them higher in SERPs. As a web owner, it is critical to follow the proven page experience best practices to enable your WordPress website to rank higher.
Tips to Optimize Your WordPress Website for Google Page Experience
With an understanding of what this update is all about, the next step is to see how to optimize your site for it. Here are core tips to optimize your site.
Check the Current Page Experience of your Website
Normally, you would want to work on your site to ensure it fulfills the requirements of the new update. However, before you make any changes to your site, it is best to know the status of your site first.
You can get a quick overview of the current user experience of your WordPress website by using the new Page Experience report. You can find this in Google Search Console. Follow the steps below to check the status:
• Click to open Google Search Console.
• Navigate to the left-hand menu and click on "Page Experience".
• You will find a summary report of the user experience on your site. Although the report you would find is for your mobile URLs, it will give you a good idea of whether or not your site offers a safe, secure, and usable experience to site visitors.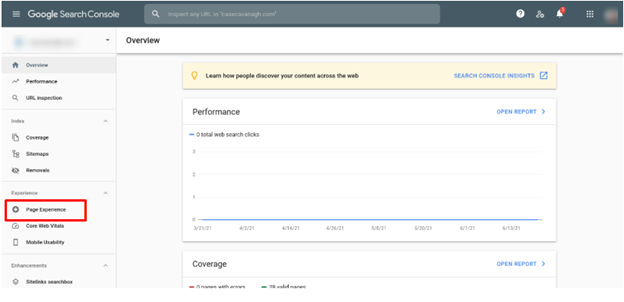 Evaluate and Monitor the Performance of your Website
Core Web Vitals is high on loading time. That means you must ensure that your website delivers optimal performance. It is recommended that you use an analysis tool to help you understand the current status of your site in terms of performance.
Google PageSpeed Insights is a good tool that you can use to evaluate the performance of your site. To use this tool, enter the URL of your page and click on the "Analyze" button. You can look for specific metrics in the Lab Data section if you want more than the overall score of your site.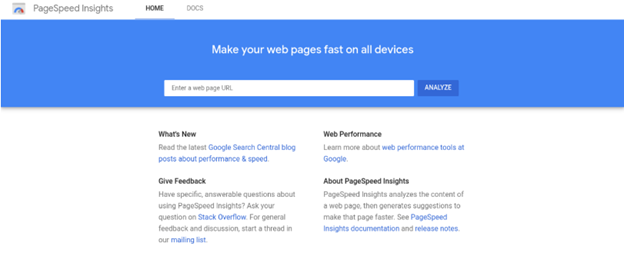 You will see details of metrics that make up the scores for Core Web Vitals. Additionally, you will find recommendations on how to boost the loading time of your site on the result page. You can implement the recommendations to improve the performance of your site significantly.
Check the Mobile-Friendliness of Your WordPress Website
Mobile-friendliness is vital to the Page Experience update. Therefore, your site must perform optimally on all devices. You may want to use Google's Mobile-Friendly Test tool to check how friendly your site is.
Suffice to mention that Google's Mobile-Friendly Test tool software is a free tool with numerous features to help you optimize your website. You can use it to evaluate the responsiveness level of your site. It will also suggest improvements that you can make to make your site more responsive. To use this tool, follow the steps below:
• Search for Google's Mobile-Friendly Test from Google Console
• Input your page URL in the text field
• Click on the "Test URL" button
When it is done, you will see the detailed analysis of your site on the result screen. If your site is mobile-friendly, you will see the result – "Page is mobile-friendly". If it is not, you will see loading issues on the screen. Simply click on the "View Details" link to know more about the issue.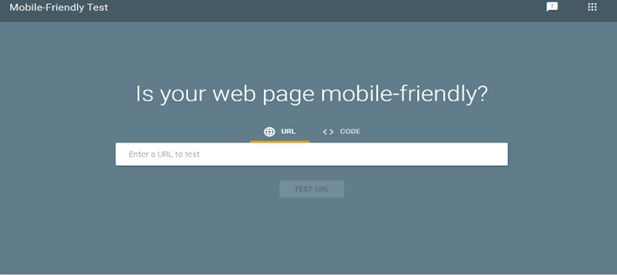 Mobile Usability report also offers detailed status about the mobile-friendliness of your site. Mobile Usability report is available through Google Search Console.
Ensure Your SSL Certificate is up to date
Security is a priority when it comes to boosting your site's SEO. It protects both your business and customers' information. Apart from Core Web Vitals, security concerns are also an integral part of the ranking signals for Page Experience.
It is recommended that you verify that your SSL is up to date and valid. To check this, open your website on any browser and check the position of your web URL. If it shows a padlock icon, your site's SSL certificate is valid and up to date.
However, if it shows "Not Secure," it means the site you need to renew the certificate. Most WordPress hosting providers offer SSL certificates as part of their packages. If your site does not have any, it is best to get it to improve the security profile of your site.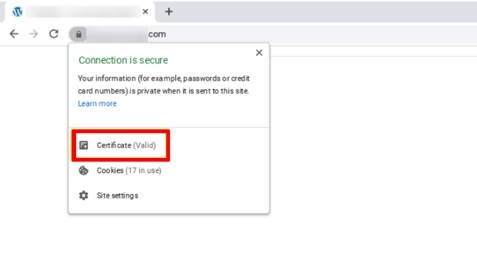 Optimize Sliders, Images, and Other Media on your WordPress Website
To fair well in the new Google Page Experience ranking signals, you should optimize your site's content. You can do this in many ways but it is recommended that you start with elements that impact page performance and speed of your site.
These include media, such as images and sliders. You will find various image optimization plugins that you can use to reduce the size of your media files. This will increase the loading speed and ultimately improve the user experience on your site. With this, you will retain visitors and improve your ranking.
Conclusion
The level of traffic on your website is determined by how high your site rank on SERPs to attract visitors. To improve your site's ranking, it is recommended that you adhere to best practices and pay attention to the ranking signals and search algorithms of the search engine. We hope you have learned some tips that you can use to optimize your WordPress site for the Google Page Experience update.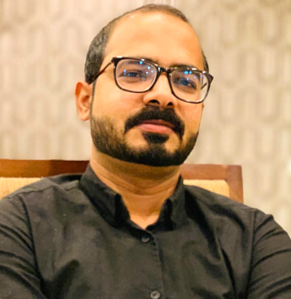 Umair Khan