Does your website have a blog? If yes, then by now you must have realized how essential it is to send out newsletters. Not only is it an easy and hassle-free way to popularize your content, but it can also help you optimize your content strategy and see what is interesting for your audience.
Aside from distributing your content, newsletters can also help you generate actual paying customers. An email newsletter engages customers to return to your site more often – which can lead to significant revenue increase. Around 75 million sites today use WordPress, which means WP powers roughly 27% of the web.
So far, you have created enough quality content which you are sure will grow your business. Wouldn't it be great if you could send out newsletters directly from WordPress?
With the help of plugins this is not an impossible task, as they can extent your site's functionality. You can use plugins for SEO, protect yourself from SPAM emails, and so on.
Some of the best plugins for WordPress are designed for email marketing and newsletters. They help you generate leads, filter your contacts and turn them into paying customers – all of this available within WordPress.
Here is our list of best email plugins which you can successfully use for distributing your content and other marketing needs:
Mail Poet
Mail Poet is the most popular choice out there. You can easily manage your subscribers by importing a list from your personal database and some other marketing tool, as well as create forms and add them to your website with the help of widgets. Also, their drag-and-drop email editor lets you build beautiful responsive emails for any device or mail service.
Mail Poet is free of charge for a list of no more than 2000 subscribers, but gets far better upon upgrading. Premium users can follow closely which subscribers have opened the email and the links they've clicked on, as well as other advanced features.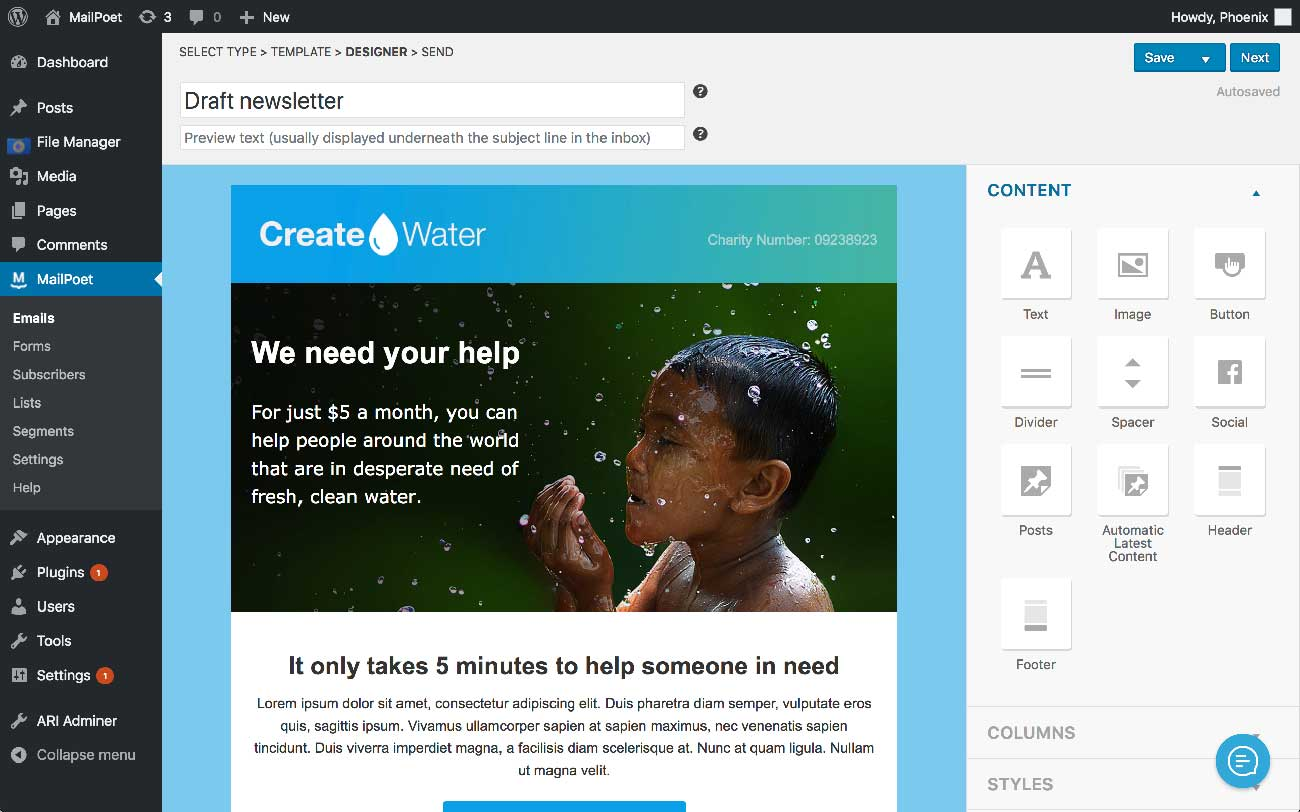 Newsletter
Built specifically for WordPress, Newsletter is an email marketing tool and provides everything you need to launch your own successful campaign. It allows you to add a pop-up or a subscription form to your site, segment the leads with the help of multi-list targeting and send out newsletters to popularize your blog content.
In addition, you can find a built-in reporting which helps you see how your customers are responding. There is even the option to automate your emails which ensures regular contact with your audience. Newsletter integrates well with other tools, like Spark Post and Mailgun, which helps you optimize your marketing strategy.
SendinBlue
This plugin provides cloud-base marketing tools for over 50 thousand companies worldwide. With SendinBlue you can create different forms, manage your subscribers, send out marketing campaigns and usе the various detailed reports to measure your success rate. This plugin comes with a user-friendly drag-and-drop editor, which in turn helps you personalize different components of your email and increase engagement.
SendinBlue includes transactional email as well. With the help of the wp_mail function you can now send transactional emails using SendinBlue's SMTP. This feature is very useful when sending out order confirmation, or sending updates to customers when changes have been made to their accounts.
Sumo
This plugin has over 100 000 installation on active WordPress sites, and there is a reason for this. Aside from the standard welcome emails, pop-ups, automated campaigns, there are a number of great marketing tools which will help you grow your online business.
It also has an included share button which can be added anywhere on your website, allowing visitors to easy share your content on social media. It can be directly integrated with WooCommerce, helping you create unique offers and discounts to increase the order value, and minimize the number of abandoned carts.
Aside from all the plugin features, Sumo offers free customer support, and one-on-one onboarding for all clients. This will ensure you are getting the most out of your plugin.
Email Subscribers and Newsletters
This plugin lets you notify your subscribers every time you have a new blog post. With it, you can easily add a subscription box to your website and receive notifications whenever someone signs up for your newsletter.
Email Subscribers and Newsletters is quite strict when it comes to the health of your email database. Due to its double opt-in functionality you can ensure that you are only contacting people who would be interested in your offer. The tool offers spam testing services and list cleanup as well.
Subscribe2
The plugin gives you two options: to send simple notifications to your email database whenever there is a new blog post, or a recurring digest of post. With the help of Subscribe2 you can even exclude specific categories from being included in your emails, or posts based on the individual receiving them. You have the option to create simple emails or custom HTML emails. If you decide to upgrade to the pro version, it can send emails to your subscribers in AWeber, Mailchimp or other providers.
SendPress
With this easy to use newsletter plugin, you can import content and contacts from your WP site directly to your plugin, which in turn makes it easy to create blog notification email. You have at your disposal a number of editing and styling options, which aids you in sending out professionally designed emails.


OptionMonster
With the help of a wide variety of static forms and pop-ups, OptionMonster helps you grow your email lists and attract more subscribers. It comes with a drag-and-drop editor, with which you can build from scratch or select from a default template.
What sets this plugin apart from other tools is their targeting options. With the help of exit intent technology, a pop-up will be deployed depending on when the user is about to leave a page. With the page-level targeting options, you can now tailor your content based on where the visitor is located and their behavior on your website. With the provided information you can edit your email campaigns, using one of the many integrated mail services.
Thrive Leads
The plugin includes a variety of pop-up types, like multiple choice forms and full-screen overlays. It also has the included targeting options one would expect from an email subscription plugin.
Thrive Leads also offers A/B Testing so that you can see if a change in the design or content will affect the conversion rates.
WP Subscribe
WP Subscribe has optimized its code on their plugin which ensures faster loading and it will not slow down your website.
The plugin ensures that you can add your subscription form basically anywhere on your site and due to its responsive design, your subscribers can view it on any device. WP Subscribe is compatible with a number of email service providers, like MailChimp and AWeber, so that you can start leveraging your email lists straight away.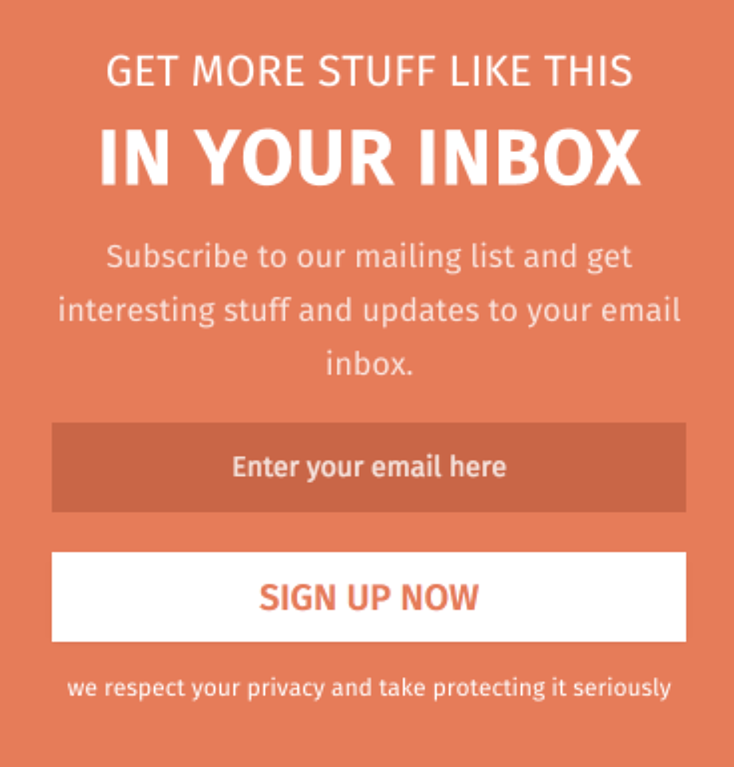 Ninja Forms
Currently the plugin has over 1 million WordPress installations, which makes it one of the most popular choices for email subscription plugins. Aside from the basic features, there are a few extra ones which makes it stand out.
There are several anti-spam options, like Google's reCAPTCHA, which ensures the validity of your subscriptions. You can also collect payment with the help of integrations like Stripe, PayPal Express and Elavon. Ninja Forms also integrates with a number of popular newsletter tools, so that you can start sending emails to your lead subscribers.
Conclusion
It very important to choose the plugin which is best for you and website's needs. Depending whether you are in need of a highly customizable plugin, or one which will help you get your newsletter launched, the options above provide a great starting point for you to build your subscribers list.
Nadejda Milanova