One of the top things that attract customers to your online store is the quality of product images displayed on the store. Just like in a physical store, people get attracted to stores based on how the products are showcased and shelved.
So, if you want to improve the footfall to your site and convert the visitors to paying customers, product displays are some of the important things you must pay attention to. For the most part, importing product images to WooCommerce can be tedious, especially if you have many images to upload.
Apart from the product images, you also have to export the metadata and product data to complete the entire process.
What Product Import Plugins are Available for WooCommerce?
The good news is that WooCommerce offers an effective product import plugin that will make the task easier. First, let us establish that there are numerous WooCommerce product import plugins that you can use. Some of the options available that are compatible with WooCommerce include:
• WooCommerce CSV Import Export Plugin
• Woo Import Export
• Product Importer Deluxe
• WP All Export
• Product Import Export for WooCommerce
• WooExim WooCommerce Export-Import
• Product CSV Import Suite
• WebToffee
With the plugin, the import process becomes easy and fast. You can choose between the free and premium versions of these options. However, we recommend that you start with the free version first to see how efficient the tool is before you upgrade to the premium version.
In this post, we will look at how to import products into WooCommerce with the WebToffee plugin. The Product Import Export for WooCommerce plugin makes uploading to WooCommerce very easy to use. It imports and exports grouped, basic, affiliate/external products to and from a CSV file.
It is essential to point out that you can only upload variable products when you use the premium version. However, if you are just setting up your stores, you should be fine with the free version.
What are the Use Cases for the WooCommerce Product Import Export Plugin?
The Import plugin is a very efficient tool for transferring product data to your store. Here are some use cases for the WooCommerce Product Import plugin:
• The plugin allows you to import products when you want to transfer your store. You need a WooCommerce Import plugin to transfer bulk products to your new store. It easily transfers product images and product data.
• It is useful for storing a backup of your product images in case of a website crash. Website crashes often occur when you are not expecting it and having backup files of your products is very important to restore your site.
• It makes updating product data seamless in your WooCommerce store. You can use it to update product data such as price stock details, product images, product name, and product ID.
• It is very effective in uploading product images into WooCommerce.
What are the Features of the WooCommerce Product Import Plugin?
• Import and export products to and from WooCommerce and CSV.
• Supports different product types, including affiliate/external, grouped, and simple.
• Can import and exports products with their images.
• Import and exports product reviews with customers' ratings.
• Import and exports products by status, selected products, tags, and category as well as import and export product taxonomies, attributes, stock, and price.
• Supports bulk edit of products.
• Export and import product tags and product categories.
• Can import and export in batches with the custom batch count.
• Can select from a list of multiple import and export options and set CSV delimiter for product import.
• Import products seamlessly from other eCommerce sites, such as Magento and Shopify with the import column mapping.
• Provides a list of past exports and imports with an option of re-running them.
• Structure and organize CSV columns within the export file based on your preference with the drag & drop user interface.
• Easily view import log for seamless debugging.
Guide to Import Products into a WooCommerce Store
The first step is to download and install the plugin on your WooCommerce store. To do this, navigate to your WordPress dashboard and go to the Plugin menu and then click "Add New". Search for "product import" in the opened window and browse through the result.

You will see the Product Import Export Plugin for WooCommerce by WebToffee. Click on it to install and follow the activation process. Once you have activated the plugin successfully, you will see a new menu added to the WordPress dashboard, which you have to click to start importing products in your WooCommerce store.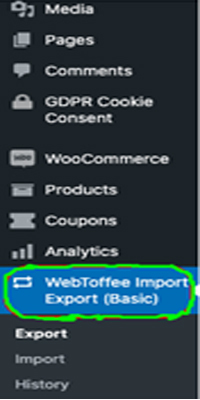 Must-haves for Importing Products into a WooCommerce Store
You need to have a CSV file to use import products to a store. You can use a spreadsheet application to create one. You can also use WooCommerce default export to get a CSV format. Alternatively, you can download a sample Product WooCommerce CSV file or Product Commercial CSV file.
If you are using a sample CSV, take the time to edit the content and include your product details on the CSV file. When you are done, you can begin to import the CSV directly to your WooCommerce store.
Step-by-step Guide to Import Products into a WooCommerce Store
In this part, we will look at a guide on how to import your products to your online store. Follow the steps below to do this:
• Select a post type. From the dashboard, go to the sub-menu tab labeled "Import" and select "Product" as the post type.

• Choose the import method to use. There are three options available for the plugin. These are "Quick Import", "Pre-saved template", and "Advanced Import".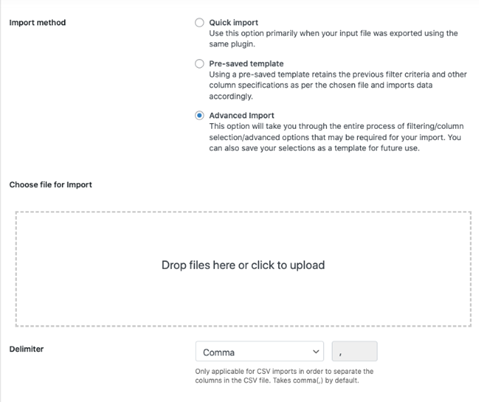 • Map the import columns. Carefully map the CSV column with the WooCommerce fields and ensure that you do not make any mistakes. You can map default WooCommerce taxonomies, attributes, and fields. You can also build update your product data by using the "Evaluation fields".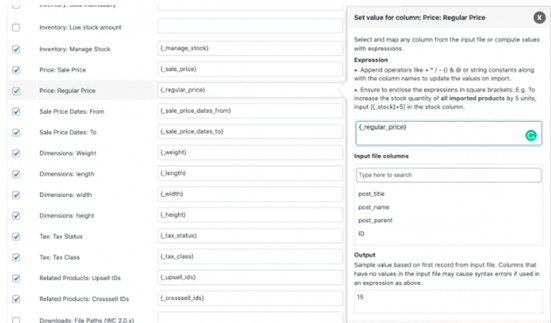 • Use advanced options/batch import. This is the last step in the import process. You can configure both the advanced options for import and batch import count. Follow the prompting to configure the options based on your preference.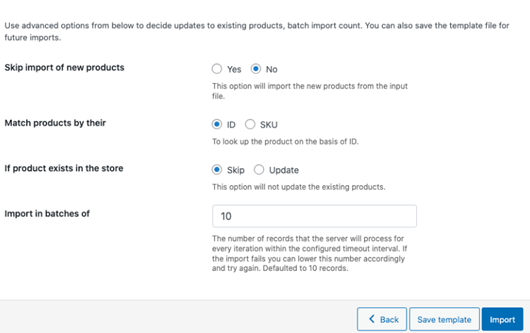 • Save the configured import settings by clicking the "Save Template" button. You should remember to add a name to the template.
• Click the "Import" button and wait for the process to be completed. When it is completed, you will see a popup that shows the import status. It will show both the successful and failed import to enable you to take the necessary steps. If there is any failed import, click the "View Details" button beside the item to see the reason why the import failed. You can also check the "Log" section in the plugin to know more about the error. You can easily debug the error and upload the failed products again following the same steps.
Conclusion
If you want to import or export products to and from a CSV file to a WooCommerce store, the plugin is an effective tool. It also works for bulk editing of products and images. It should be noted that the free version of the plugin does not support XML file type and variable products. If you want to import or export these, you have to upgrade to the premium version, which requires that you pay a subscription fee.
Why do I get "Empty CSV" when trying to import with the WooCommerce plugin?
The plugin only supports specific product types, including simple, grouped, external/affiliate products but not variable products. Therefore, if you try to import or export the latter, it will show an empty CSV. You need to upgrade to the premium version to be able to import variable products.
Does the plugin allow importing attributes and taxonomies (shipping class, tags, and categories)?
Yes, it does. You can import product attributes and taxonomies to your WooCommerce store with the plugin.
Does the plugin support the import/export of product images?
Yes, it does. You can import and export product images as well as other product details with the plugin.
Can I import external and grouped products to WooCommerce with the plugin?
Yes, you can import external, affiliate, and grouped products to your WooCommerce store with the plugin.
Is it possible to export products by product category with the plugin?
Yes, you can. The plugin supports exporting products by category with the use of the category filter in the plugin.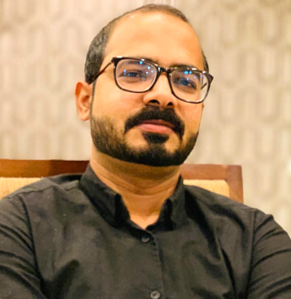 Umair Khan