There are so many available WordPress gallery plugins out there, but there is always the problem that some of them are very hard to use, while others slow down your website.
To help you choose the best option for your website, we have created a detailed list based on features, performance and quality of the best gallery plugins.
Our main goal is to help you choose the plugin that is easy to install and use, as has all of the features you need.
How to choose the best gallery plugin for your website?
The ideal plugin is fast, has all the necessary features for creating a gorgeous gallery and is easy to use.
It should offer great user experience and significantly improve your SEO as well.
Today we will discuss 4 main gallery plugins which we believe are the best on the market:
Envira Gallery
Modula
FooGallery
NextGEN Gallery
Speed
Speed is extremely crucial when choosing the best gallery plugin. Not only is it good for your SEO, but it also affects user experience.
If you have a photography or portfolio site, then you cannot make any compromises with speed.
Bellow you can see the results of a speed test for each plugin:

As you can clearly see, Envira Gallery has the best results. Modula is a very close second with a smaller page size and few milliseconds behind. The reason for their results is that they have been coded in an excellent way and are very well optimized for speed. If you are mainly looking for performance and speed, they are a great option.
Ease of use
Creating a whole image gallery is not as simple as uploading a single image in a post. You have to choose different layouts, add thumbnail sizes, select columns, etc.
For most beginners, this is a very overwhelming process. The goal is a to choose a plugin which is both user friendly and powerful.
Envira Gallery
This plugin strictly follows all coding standards and practices, while providing a great interface which blends great with your admin area.
Making a new gallery is actually a very simple and pleasant experience with this plugin.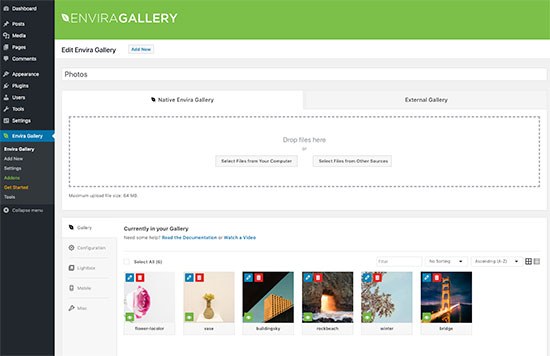 Envira comes with a Gutenberg block which helps you to easily add photo galleries into any page or post. All gallery settings are managed from the post edit screen.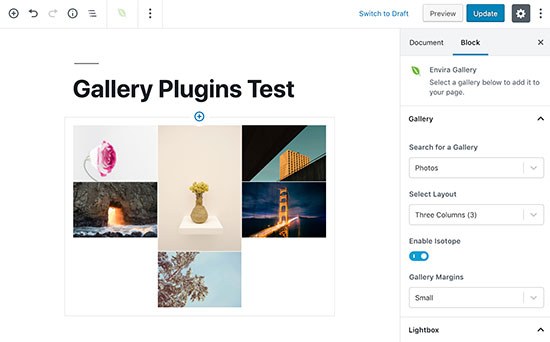 Envira Gallery also allows you to see the template tag which can be used in the WordPress templates. This is great if you are making a site for a client and want the gallery to be included directly into the theme.
Modula
With this plugin the approach is quite similar. When creating the gallery, you can simply upload your files or just select them from the media library.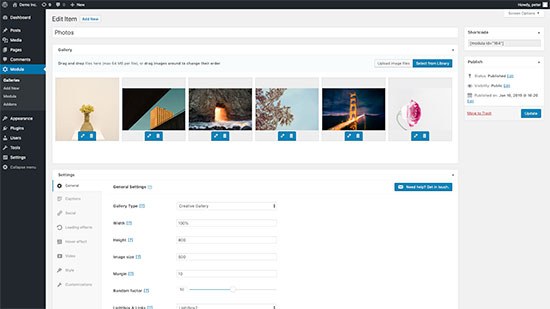 You can see all gallery settings bellow the images, where you can change theme, style, lightbox as well as other settings.
In order to insert the gallery into pages or posts, simply copy the gallery shortcode and insert it with the help of the Shortcode block in the Gutenberg editor.
FooGallery
Similar to Modula and Envira Gallery, Goo Gallery uses a simple interface for users which looks just like WordPress.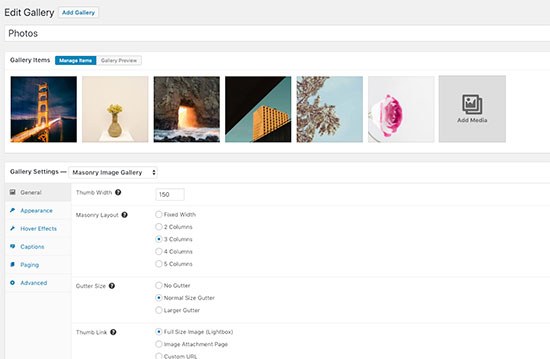 Just upload your photos, and make adjustments to your settings later in the settings options bellow.
With FooGallery it's easy to insert your gallery. With the help of the built-in shortcode, Gutenber block or sidebar widget, you can display your gallery anywhere on your site.
Unlike Envira, this plugin will not show you the template tag into the templates or files.
NextGEN Gallery
This plugin is a bit different that the other three mentioned above. It has its own interface, separate folders and database tables where you can store your data. This is why the interface is a bit complicated.
The gallery wizard can be helpful for all beginners, but it takes you some time to understand how it works. It can also be a bit difficult to upload your gallery into the page.
NextGEN has a Gutenberg block which helps you to create and add your galleries.
Features
A beautiful gallery needs functionality such as full-screen mode, lightboxes, albums. Navigation, pagination, slideshows, social media sharing and much more.
Note, that too many features can also slow down your website. Let's make a comparison between our plugins in terms of their features.
Envira Gallery
Envira was built mainly with mobile first mindset.
You can easily choose animations, thumbnail sizes, gallery layouts, even add meta tags.
Apart from the already built in features, you can add a number of other functionalities with the help of addons: social sharing, templates, password protection, videos, albums, slideshow, WooCommerce support, etc.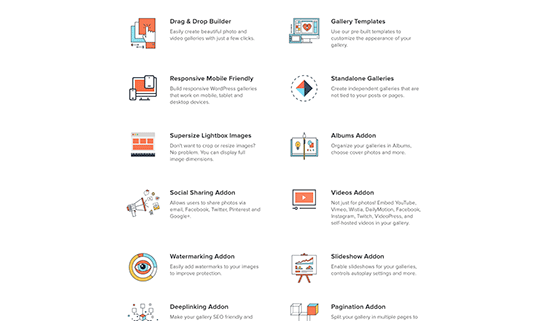 Modula
Compared to the others on the list, Modula is the newest plugin. It has all the basic features you would need from a gallery plugin such as social sharing, lightbox, grid layouts and custom styles.
It has a custom grid feature, allowing you to use drag and drop and create your own grid for galleries.
It also provides you with a video addon to creating video galleries. It does, however, lack certain features such as watermarking, albums and gallery templates.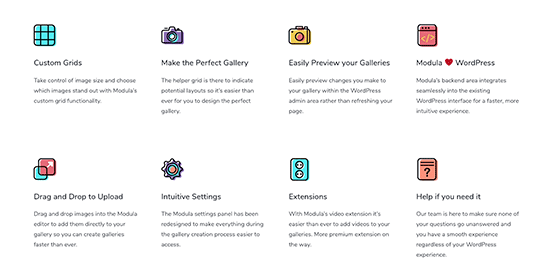 FooGallery
Although it has a number of great features, it's not so much mobile responsive. You can choose the responsive template and add the responsive photo gallery.
It also lacks a lightbox, but you can install the free Foobox plugin and will be able to add this functionality. It would have been great to be added in the package, though.
FooGallery also comes with extensions which can be installed for more features like cube effect, custom branding, lightbox, etc.

NextGEN Gallery
Coming with an impressive list of features, NextGEN is the oldest among the four plugins from our list.
A lot of the features available as addons in Foo and Envira, are available in the NextGEN photo gallery. Some other features are available with the premium addons.
A lot of the features require some level of understanding of the plugin. It will take some time for users to figure them out, reading through all of the documentation.
Compatibility
With WordPress you can move your site from one web hosting to another.
Will this be a problem when exporting and backing up your gallery?
Envira Gallery
Enviora will store your photos as custom post type in the WP database. By using the default WP media location, it stores your media files. If you backup your site, this means the Envira data will be backed up as well.
With Envira you can also import or export individual galleries. This means that a single gallery can be moved from one site to another.
Modula
This plugin uses custom WP content type for storing your galleries. You can save your galleries with your WP backup and later restore them.
With Modula you can't import or export individual galleries.
FooGallery
Quite like Envira, FooGallery can store your gallery as custom post types in the WP database. If you backup your site, your plugin data will be backed up as well.
You cannot export individual galleries, however.
NextGEN Gallery
The plugin has no import and export feature. You would need to configure your site backup plugin to include that data.
It stores your images in a separate folder and if you wish to back them up, you would need to download the folder on your computer.
Conclusion
For a simple and faster solution, Modula and Envira are great choices.
If you are interested in the advanced features, and don't mind learning some extra materials, try out NextGEN gallery.
We hope this post was useful when choosing the best gallery plugin for your website, share with us in the comments bellow which one you believe would be good for your needs.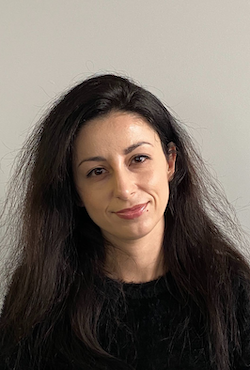 Nadejda Milanova