When adding some personal touches to your website you'll notice a much healthier conversion rate.
Most bloggers and influencers recognize the benefits of showing a personal interest in communicating with their audience. If you look through your favorite blog, you'll notice at least a contact form, links for social media and email address.
However, if you want to take things to the next level, nothing beats live chat.
It gives you the opportunity to provide excellent service to your customers by resolving their problems instantly. It also drives conversions to your site, as you respond to questions straight away, providing reassuring presence until your customers are ready to spend on your products.
Top Live chat Plugins for WordPress
Today, we'll be introducing to you the best live chat plugins, available for WordPress.
Live chat

As the name implies, this is a very handy chat solution. It's designed in a fantastic user-friendly way, helping both users and chat agents alike.
On the visitor side, LiveChat greets people with a nice-looking chat box, located at the bottom of the page. Always visible, the chat box is accessible in just one click.
What's best about LiveChat is the amount of really cool features which it gives you and your support team.
You have the option to engage customers directly, providing a more positive experience
The chat window can be customized
You have full control over all conversations from your dashboard
Full history from previous chats
Every new user gets a 14-day free trial
SendinBlue
It's not exactly a WordPress live chat plugin, but it's still super easy to integrate with your website. You just need to embed a simple code into your footer.
It's certainly an interesting alternative for site owners who are on the lookout for a multi-purpose tool which can handle more than just a live chat.
SendinBlue is well known for their email marketing and other tools, all included in one package:
Sending newsletter and broadcasts
Set up and manage FB ads
Landing pages
SMS messages
Emails via SendinBlue's SMTP
Email marketing automation
And of course, Live chat
Olark


It's a fully featured live chat solution and although not the best example of WordPress live chat plugin, you can easily integrate it with your website with the help of a widget.
Olark provides you with a piece of code which you can embed wherever you wish, clean and simple.
A lot of the features Olark offers are quite advanced:
Chat reports – you can track customer satisfaction, operator responsiveness and chat frequency
CRM integration – with Highrise, Salesforce, Nutshell and many more
You can hide or show the chat box, send messages automatically, or even assign chats to specific department.
Helpdesk integration – with Zendesk, Groove, Desk.com and more
You can group your operators by different teams
You have access to chat history and transcript.
White label feature
Each conversation box provides you with a detailed breakdown of the user's activity on your website. You can see each page they have visited and their activity on it. Once the chat is complete the customer can leave their rating and feedback.
Zendesk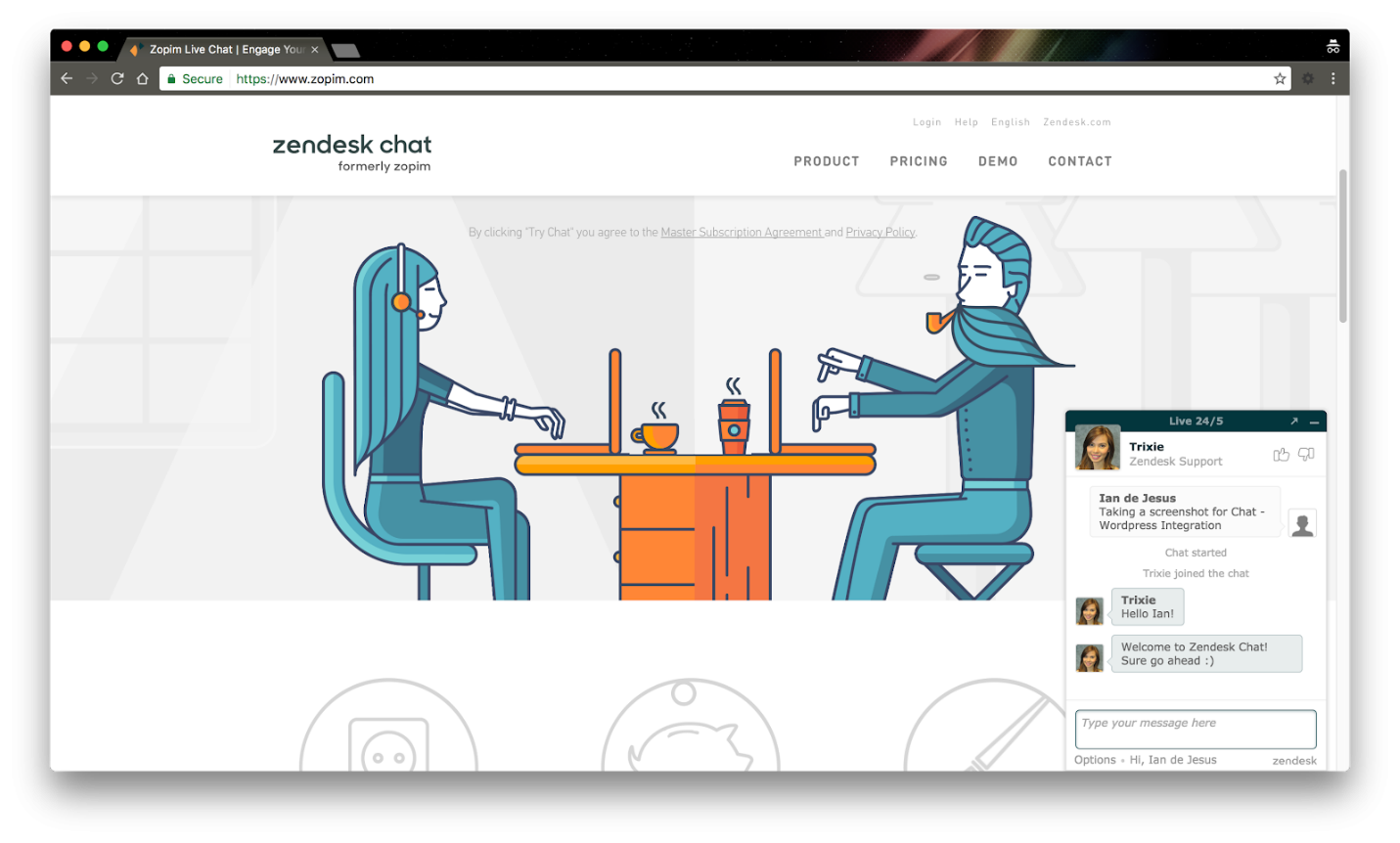 Zendesk is one of the most popular live chat options available to WordPress users. With the help of a WordPress plugin available in the WordPress repository, you can easily install it. The themes and layout are very stylish, simple and customizable.
By accessing the Zopim Dashboard you can respond the users' messages, as well as gain access to vital stats which lets you review chat history, performance, as well as learn more about your visitors.
A free subscription allows only one agent to handle unlimited number of live chats, however only one at a time. This plugin can be more than enough if you are running a small online business.
If you decide you want to use the premium features, the subscription plans start from 14$ per month. This gives you access to some additional cool features such as chat triggers – it lets you specify certain conditions for the chat box to auto-launch, like for example if a visitor is stuck on a page for longer than a minute.
Tidio Live Chat

It's one of the easiest live chat plugins, simply activate it and you are ready to go. The chat boxes come in three design versions, which makes it easy to customize them depending on your branding.
You can handle chats from a Tidio Chat tab which can be accessed from your WordPress dashboard. Handle chats by using the dedicated desktop, Android or iOS app.
If for whatever reason you are unable to chat, messages are sent directly to your inbox. Also, if a customer leaves the chat, you can continue your communication via email.

Live Chat Unlimited
If you think monthly fees for chat plugins are off-putting, then Live Chat Unlimited is just for you. It's available for a fee of 75$. Chats are handled entirely from the WordPress dashboard, which is perfect if you are logged in most of the time. Simple but effective, there are two colors for you to customize.
There is no limit to the number of conversations you can handle at any given time, also multiple operators can respond to the same query. If there are no available operators, the chat box is replaced with a contact form, so that users can email you directly.
Formilla Live Chat

Formilla is a great live chat solution. If your website has modest traffic stats, try Formilla for free - the package includes one agent, one chat at a time, up to 30 chats per month, all handled by the chat solution interface.
If you are looking for a live chat plugin which can handle a larger volume, 30 chats certainly won't be enough. If you decide to upgrade, there is also the available option for $11.99 per month for one agent handling unlimited number of chats.
For premium users there is the Formilla interface, as well as the Android and iOS apps. There is also the customizable chat boxes and real time user monitoring.
Other impressive premium features include chat queues for when operators are busy, offline email forms and proactive chats.
Pure chat

Because of the beautifully designed chat boxes, Pure chat is a favorite for many. Any part of the chat box is customizable, with eye-catching animations, unlimited color schemes, and custom images.
Aside from the attractive visuals, Pure chat is an extremely capable tool. Some of the included features are detailed analytics, proactive chat triggers and multi-chat management.
You can schedule when the function is online or offline. The free version allows you up to 15 chats per month. For premium versions the plans start from $39 per month including four users and unlimited number of chats. The conversations are handled via the Pure Chat dashboard and the mobile app.
Conclusion
Depending on your business needs and traffic flow there are numerous options available for e live chat plugin. As always Fixed Netis here to assist you with adding the best live chat option for you and optimizing the customer experience for your visitors.
Nadejda Milanova