One great way of driving more traffic to your pillar articles is by displaying your top content as featured posts in your sidebar.
We will show you how to easily do this with the help of multiple methods.
Do you really need featured posts?
Sidebars are known as the non-content area of your site. A lot of users use this space by adding a newsletter form, banners ads or social media buttons.
Another creative way of utilizing this space with by displaying featured posts. This will increase traffic and users will be able to view your best posts without the need to look further.
1. Featured posts in WP Sidebar This pretty straight forward method does not need you to install any plugin on your site.
Just go to Appearance – Widget and add a Text widget to the sidebar.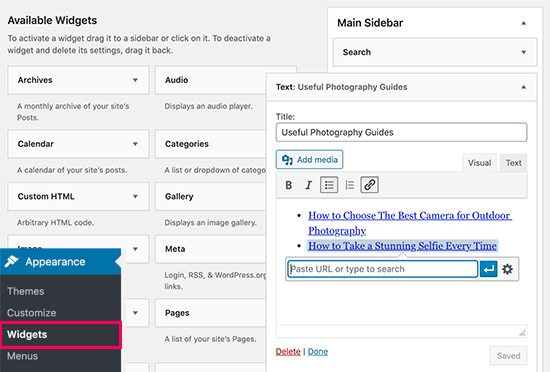 This widget provides you with a visual editor and some formatting buttons at the top. You can add titles of the posts and wish to feature as plain text or bulleted list.
Now choose the title of the post and click on the link button so that you can add a link to your blog post.
Once you are finished, Save all changes you have made.
You can now see the featured posts live.
2. Featured posts using Menus
Although this method is a bit more indirect, you will have the option to manage all featured posts more easily.
Instead of using the list in the Text widget, you can create a navigation menu which can be displayed on the sidebar.
The best thing about this method is that you can easily add posts without the help of the editing widget, after which you can change the list using a drag-and-drop interface.
Go to Appearance – Menus and click on Create a new menu.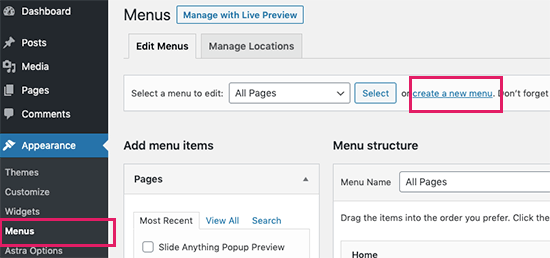 Enter a name for the menu and click on Create Menu.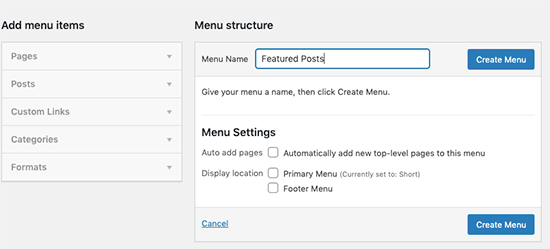 With that, you now have a new black menu.
Next step is going to Posts, located o the left column. Now select the posts you wish to be featured. They can be found on Recent, All or simply use the Search option to find them.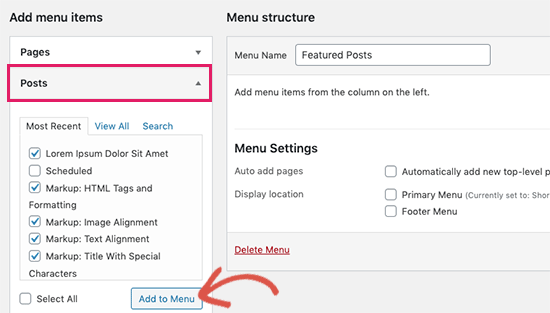 After choosing your posts, click on Add to Menu. Your posts will now be visible in the right column and you can make changes to the titles by clicking on it. You can also rearrange them by dragging them around.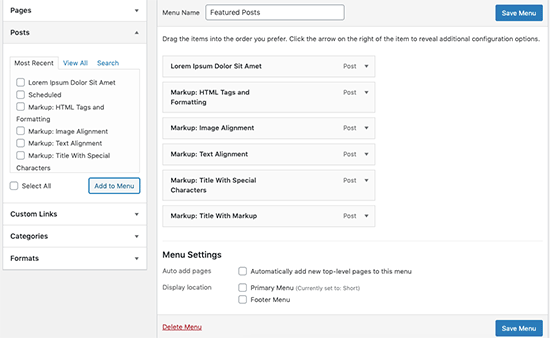 When you are done, click on Save Menu to store all changes made.
You can now use your menu.
Adding Featured Posts Menu in your Sidebar
You need to go to Appearance – Widgets and add Navigation Menu widget to your sidebar.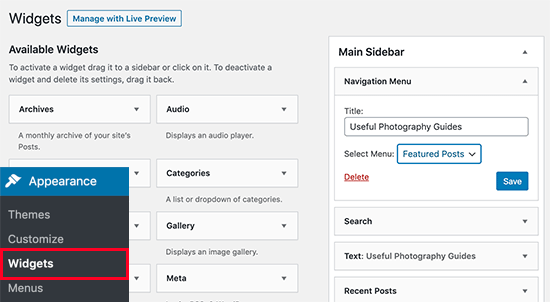 Next step is giving a title to the sidebar menu widget and choose the featured posts, created from earlier.
Don't forget to save your changes. You can now see the posts on your website.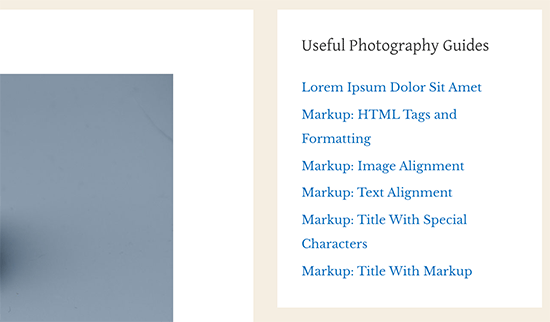 3. Adding Featured Posts with Gutenberg
A lot of users are looking into displaying their featured posts on a page or post inside WordPress. In some cases, they might be using the page editor in order to create layouts for their homepage, while in others their theme might not have a sidebar.
With this method you will be able to feature posts in your WP pages and posts.
You need to just edit a post or page where you wish to showcase your featured posts. Once you are on the edit screen of the post, click on the new block button (+) and add List block to the content area.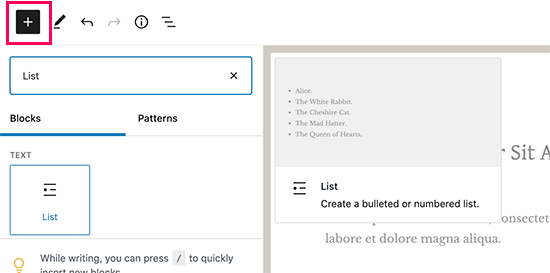 Now add the title for each blog posts you wish to be featured, select the text and click on the link button in the toolbar, this way creating a link to the article.
Now save your changes and publish your post.
Reuse the Feature Posts Block
An amazing feature of the block editor is the option to save block as Reusable block and add it in any page or post you wish. In order to make the feature posts block reusable, click on the Menu icon in the toolbar and choose Add to reusable blocks.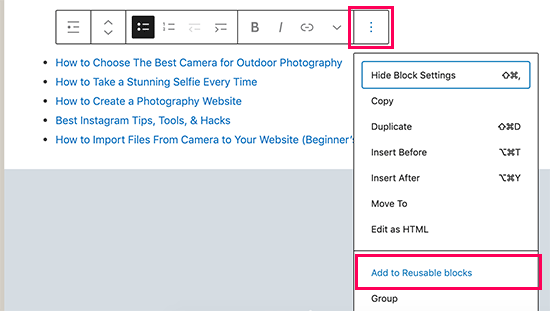 Next is filling in the name for your reusable block.

Save all changes.
If you want to edit the post or page with the featured posts, click on add new block and look for the reusable block.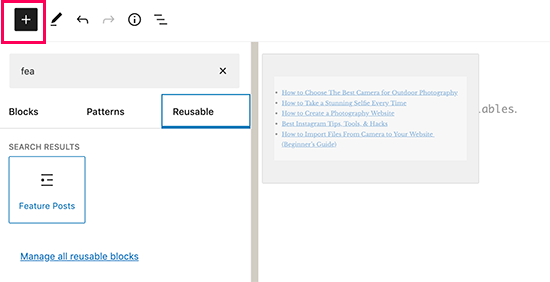 You can make changes to reusable blocks and they will be updated everywhere.
4. Display Featured Posts with Thumbnails
Often users will not notice a simple plain list of links. Using thumbnails with the featured posts will help users notice them.
In this case, you need to use a plugin to display the list of featured post along with thumbnails.
You need to install and activate the Display Posts plugin. It will allow you to select and display any WP posts you wish from your site. It works with shortcodes and lets you built your own custom query.
To use it, go to Appearance – Widgets and add a Text widget to the sidebar. In the text area, add the following code:

Make sure to replace the ID values so they match the IDs of posts you want to feature.
Save changes.
To make it look even better, go to Appearance – Customize in order to launch theme customizer. Then go to the Additional CSS tab and look for the box where you can add custom CSS.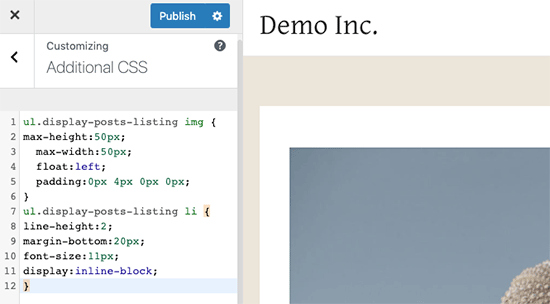 Copy and paste the following CSS inside the custom CSS box of your site.

You can modify the CSS in any way you wish until it suits your needs.
You can now see the final result.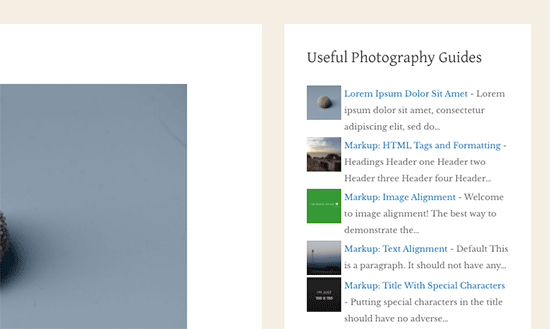 We hope this article was helpful on teaching you how to easily feature posts in WP sidebar. Drop a comment bellow and share your thoughts!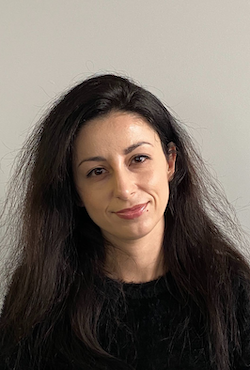 Nadejda Milanova